If there's one thing the French are known for, it's their love of food. You literally can't escape it, there are boulangeries and
brasseries on every corner, and the streets of Paris are lined with farmers' markets every Thursday and Sunday. Food is something that is taken very seriously in France, a country which has an hour and a half lunch break as standard. As somebody who is a big fan of du pain, du vin et du boursin I've had a great time these past six months existing on pain au raisins and pommes frites.
To put it simply, food seems to make up a big part of la vie des fran
çais. Quite often at work someone will bring in a bag of mini viennoiseries fresh from the local bakery, just because "c'est vendredi!" (it's Friday) however I was not prepared for all the food of the festive season à Paris. Even now, nearly two weeks into the New Year, I'm still taking home boxes of chocolates and eating Galette des Rois.
So what exactly is the Galette des Rois? It is basically a puff pastry pie filled with Frangipane and the French are CRAZY for it. Parisians are not usually ones to form an orderly queue, yet somehow this (rather overpriced, yes, that one up there IS 24€)
galette
has something in it which renders the Parisian public helpless. It's supposed to be eaten on Epiphany, and the tradition goes that a little figurine,
la fève
, is hidden in the cake and the person who finds it in their slice has to wear a cardboard crown (and buy the next galette). I'm currently on my third of the week, and I've been told that you find yourself eating it at every dinner party in the month of January until you're sick of it and can't stand the sight of it (until next year that is).
Excuse the awful quality, but that's the figurine hidden in the cake
Casual cup of Cider and Galette at my desk on a Wednesday afternoon..!
Last night we were invited to a special soirée where there would be more cider, more galette, oh and security staff and firemen. Turns out the evening was to be a great opportunity for my fellow Frenchies to combine together two of the things they love the most, food and a good old protest.
Traditional Galette on the left, and a Southern France one on the right. I didn't try it as the green fruit that it was littered with looked, if I'm honest, a bit rank.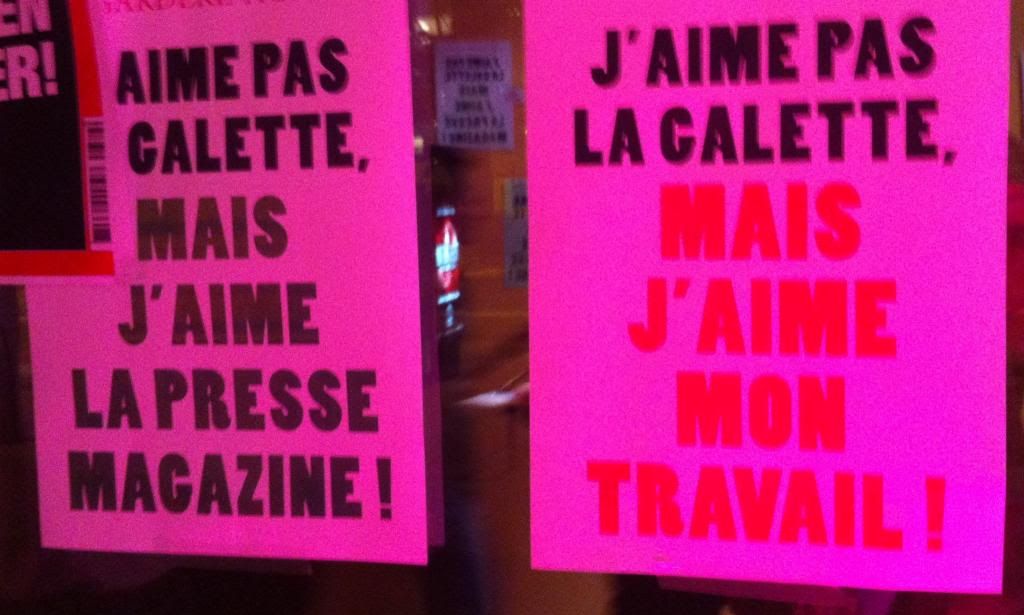 I don't like galette but I like the magazine press/my job
Fortunately the protest just turned out to be a few people deciding to put up their umbrellas the minute the CEO finished his inspirational festive speech, causing everyone to take one look at them, and then turn back to the galette and cider on offer (this time in not such an orderly queue, but I guess when it's free they don't care?)
In other French foodie news, it's official, the French are now fans of le hamburger. Admittedly, it's often still a very gallois affair, what with the burger usually being pink and the idea of a veggie burger being a bit of aubergine and a piece of goats cheese inside a burger bun, but it's become so popular that the French are now eating a whopping 14 (!) hamburgers a year and in the opening week of the new Burger King in St Lazare station the queues were round the block with security doing bag checks upon entry.
Note the glass of Sancerre, we like to keep it classy over here in Paris
However, one thing I've taken for granted in my years of living in England is the abundance of Indian restaurants. Here in Paris there are Chinese, Vietnamese and Japanese restaurants everywhere you go, probably due to the whole French-Indochine colonial empire thing they had going on in South-East Asia towards the end of the 19th Century, but coming across a decent Indian is pretty difficile. A little while ago, in search of a vegetable korma and a peshwari naan, I stumbled across the Indian restaurant district around Gare du Nord, and was greeted with this: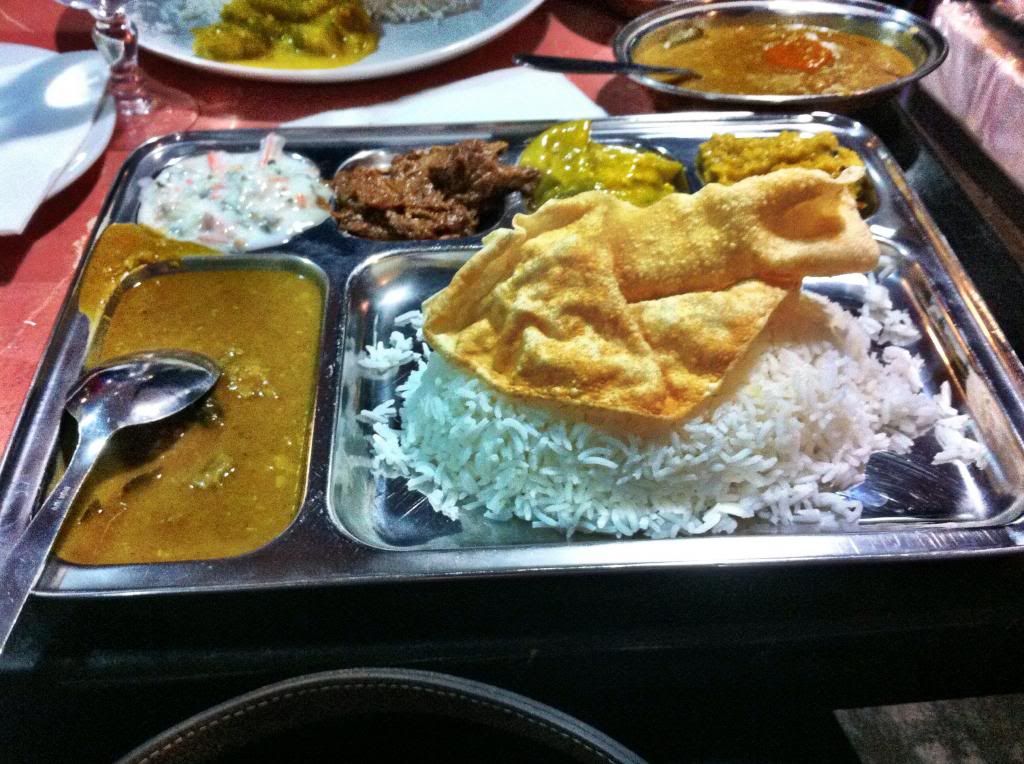 And on that note, I leave you with one of my guiltiest pleasures, La Religieuse, a pastry which I'm religiously addicted to.