When I first arrived in Paris, I was updating my blog weekly. Unfortunately, with my dissertation deadline looming, I've struggled to find the time to update my blog as much as I'd like to.
Given that I haven't done a blogpost like this in a while, I thought I'd put one up about what I've been up to during my most hectic month yet.
With my birthday at the beginning of March, I had a month full of visits from some of my favourite people in the world and let's just say it was a month of partying, eating and drinking silly amounts of Champagne!
Upstairs in Kong, one of my favourite places in Paris, it's ridiculously expensive/exclusive/over the top but it was in the final episode of SATC, has views across the Seine, plays great music and I love it to pieces
The start of my month long of celebrations saw a visit from one of my best friends, Jade. She just so happened to time her visit with Paris Fashion Week, and being the glamorous impeccably dressed woman that she is, fitted in just perfectly.
What are we likeee
For my actual birthday, the office held a breakfast for me which was very cute, and afterwards Lucy took me for lunch at M&S. I have to say, there is something really bizarre about eating English food in France, but true to form our local M&S café was full of yummy mummies.
From that weekend onwards I had visits from my family, who joined m
e for my birthday weekend for even more champagne and food and brought over my present...
We have a bit of a family tradition (?) back home where we'll often pop out to the shops and go for a Costa afterwards, and being in Paris didn't stop us this time either!
We then wandered along to the National Archives, who have just opened up their gardens for the summer. I have to say, they're a lot more impressive than our ones in Kew, which I always thought looked like something out of a Bond film...
Following on from our walk through the Marais we headed for somewhere to eat, and where else to go than for a falafel. As per, L'As was crazily busy so we headed to one of the slightly less popular ones, where I headed to use the toilet and stumbled across this rather interesting work of art in the loos. (This photo is for you, Jennie!)
Then it was the turn of my uni girls to come and visit me in Paris! It was the first time we'd been together in about 10 months so it was so nice to see them all. We did all the sights, including La Chapelle, the Eiffel Tower (where Emma, the only non-Frenchie and the only one without a phone ended up getting left behind on the line 6 metro) and even put a lock on the Pont des Arts.
Then we headed off to Kong, driven by our chauffeur for the night who I slightly fell in love with, after having drunk four bottles of Champagne between us -- woops.
Makes a change from the usual walk to the clubs in Southampton?
The next day, nursing our hangovers we headed on up to Montmartre, where the girls went crazy in the Musée du Chocolat, whilst I restrained as I've given up chocolate for lent.
I've also seemed to develop a habit of spending my hungover Sundays with my iPod on, a Starbucks in hand (only because all the independents are closed!), my biggest sunglasses and my reddest lipstick walking around the streets of Paris.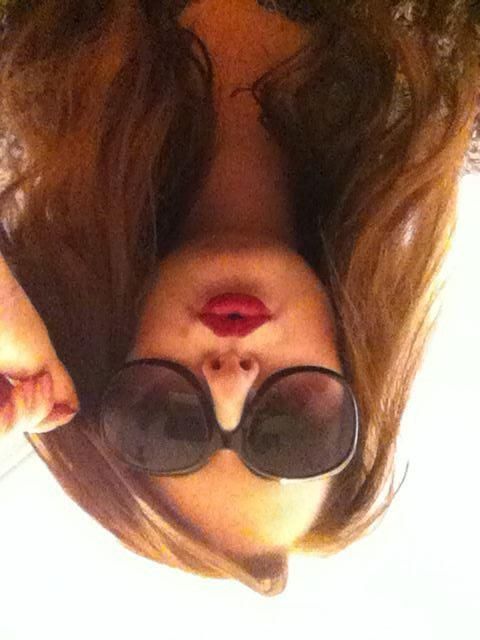 #Diva
Apart from a night out for Matt's birthday, which started with a very English game of Ring of Fire, played with French cards (umm, since when has there been a 1 in a deck of cards??), my free time is unfortunately pretty much filled with CV and dissertation writing.
Before I go though, I'll leave you with a photo of a standard Tuesday morning commute through Paris. This crazy fou decided a packed Métro at 9am was the perfect place to bring two massive suitcases, pile them on top of each other and then start babbling on in a language that definitely was not French. All I do know, however, is that he was very passionate about whatever it was that was bothering him.
Just another day in the most wonderful city in the world.
A la prochaine !
Sophie